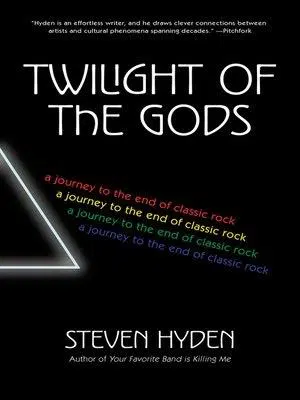 WAPL has been mentioned (repeatedly) in a new book about classic rock that came out this week. It's called Twilight of the Gods: A Journey to the End of Classic Rock by Steve Hyden.
Steve is currently a music writer at UPROXX, a popular pop culture website. However, some of you may remember Steve from his days at the Post-Crescent. I remember first reading Steve's work at the PC when he was a high school intern. His new release on Dey Street Books, an imprint of Harper Collins, (A real national publisher. Not some self-published job.) is an insightful examination of the waning days of classic rock as many of our favorite stars retire or expire. Steve also endeavors to try to understand for himself, and for all fans of the genre, why these musicians and their bands mean so much to all of us.
I'm flattered that in the book Steve recounts discovering rock music as a middle school student listening to WAPL. I love this passage about growing out of pop music and into rock, "It wasn't just the music—WAPL presented a self-contained culture that was deeper, stranger, and riper for exploration." Nice!
But, so far, my favorite part of the book is the dedication, "For Stan at New Frontier Record Exchange, and all the other legendary rockers who died too soon". It's a lovely tip of the hat to one of the real unsung heroes of the Fox Valley music scene. I can't imagine how many Fox Valley music lovers' record collections have Stan's fingerprints on them. Seeing the dedication was a real throat-lumper for me.
The book also includes a very "on the money" description of Stan that those who knew him will recognize right away.
It's a fine book and available wherever fine books are sold. Pick up or download a copy today. We'll chat with Steve on the aforementioned WAPL this Thursday morning at 9:10.
-Rick-