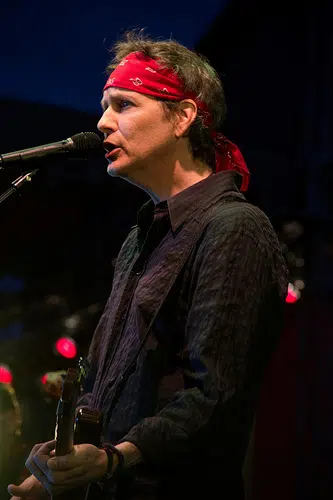 If you've been a fan of live music in Wisconsin over the last three decades you've probably seen the BoDeans a time or two. You probably even sang along with the band to Still the Night or Fadeaway or Closer to Free or Good Work. In other words, you probably have some good memories attached to the band and its music. That's part of the reason the story in Wisconsin Gannett newspapers today is such a gut punch.
Those most familiar with the band probably know it was always about two guys; Sammy Llanas and Kurt Neumann (pictured). Other members came and went but Sammy and Kurt were there from the very beginning. That's probably why fans were stunned when Llanas famously quit the band by text in 2011 leaving Neumann to soldier on with hired guns as the last original BoDean standing. The next seven years would be packed with resentment and acrimony coming from both sides and now this…
An article by Milwaukee Journal Sentinel reporter Peit Levy lays out claims by Kurt's 26-year-old step daughter, Tessa, of being repeatedly molested by Llanas when she was a child. The details are sad, grotesque, dispiriting and infuriating.
Llanas denies the allegations and has not been charged with a crime. In fact, Tessa has not filed a criminal complaint.
If you want the entire Levy story, I encourage you to read the full article yourself.
Mile of Music vets, Dawes released a delightful song a couple years ago called May All Your Favorite Bands Stay Together. It's a charming sentiment. But perhaps the lengthy title needs to be still longer. May All Your Favorite Bands Stay Together…and Their Members Never Be Accused of Doing Anything that Makes You Sick to Your Stomach.
-Rick-