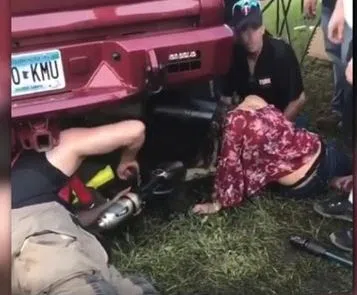 A girl at a music festival in Minnesota got her head stuck in a truck's tailpipe…yep… a TRUCK'S TAILPIPE. Granted it was a ridiculous tailpipe post market, add on accessory but …really?!
SEE IDIOT ———->>>>>>>
Alcohol (might?) have been a factor (it was) and the fire department had to be called in to help the cranial extraction. The worst part (besides having your head stuck in a tailpipe) was that she tried it earlier in the day and got her head out but decided to go in for another go. Well at least she has a new Snapchat profile pic.
You can see a brief moment before the fire department goes in with the saw HERE